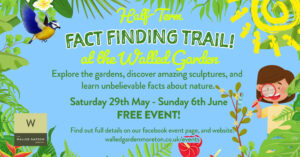 Bring your little explorers to The Walled Garden this half-term as our first trail of 2021 gets underway!
Solve the riddles, discover hidden facts – and beautiful sculptures around the Gardens! How many can your explorers find?
This FREE event commences on Saturday 29th May and runs through to Sunday 6th June.
No booking required, just turn up with you maps!
PLEASE DOWNLOAD AND PRINT YOUR RIDDLES / MAP AT HOME. Click the image below to download. We will only have a very limited supply of maps on site due to our current covid restrictions.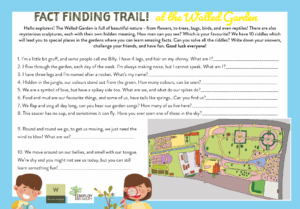 Due to restrictions still in place, this event is a little trimmed back compared to our usual trails, but we hope to return to more fully fledged events, including trails with prizes, later in the year! Please note – there are no prizes for completing this half-term trail. We hope this allows a fun new way to explore the gardens this half term. We also ask that visitors print their maps at home, as we will have a very limited number on site. We know it's been difficult to have days out over recent months, but with restrictions easing, The Walled Garden is the perfect place to visit this Half-Term and beyond into Summer.
We look forward to seeing you!