We're pleased to announce that work is underway on our improved and expanded garden shop! Working in tandem with our sister site Thorngrove Garden Centre we'll be brining more plants for sale than ever before, along with some brand new extras to expand the services we offer to you here at The Walled Garden.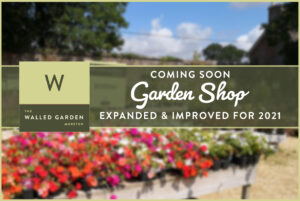 Although the gardens currently remain closed to the public, work continues behind the scenes. We've taken on board your recent feedback and we want to make sure that by this spring you will be visiting the best version of the gardens ever.
An expanded range of plants, gift, homewares and more…PLUS – Online shopping and a delivery service will be coming too!
We're ironing out all the details now, so please continue to follow updates right here on our website and on our social media. We'll also have some news on some special Walled Garden events which we hope to hold just as soon as it's safe to do so.
We can't wait to welcome you back. Stay safe everyone!