Though the warm sunshine may mislead you, today officially marks the arrival of Autumn! What does this mean for us? Well the garden team have their work cut out for them (more on that soon), but also we have some exciting updates for the café, and next month our Autumn Trail will open for your little explorers!
– Our new Autumn/Winter menu will launch!
Keep your eyes peeled as we'll preview it on our social media beforehand
– Table service returns to the café!
We'll be running table service indoors, and on the immediate cafe patio. Customers can still sit and eat on the benches in the gardens and under the marquee, however these orders will still operate with our buzzer system instead.
– Though we are still open 7 days a week, the café will be closing at 4pm
(with last food orders at 2:45pm and service stopping at 3pm)
Our Autumn Trail opens on the 16th October, and runs until the 31st!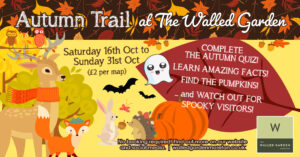 – Complete the Quiz and Learn amazing facts
– Watch out for spooky visitors!
Summer was amazing, but we're ready for a cosy autumn, and we look forward to seeing you all!😊🎃🍂