Calling all little explorers – The Dinosaurs are descending upon the gardens once again this Summer!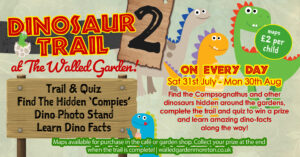 Grab your map and take a journey through the gardens. Spot the dinosaurs, learn amazing facts, and complete the dino-quiz!
Find the compies! A pack of compsognathus have escaped their paddock and are now loose around the gardens. Can you find all 10? Mark them off on your maps as you go. You'll need to look closely as they like to hide!
Dino Photo Stand. Become part of the Jurassic Crew and step in to the photo stand and snap a memory to take back home to your explorer's journal.
Maps are £2 each and available for purchase in the Garden Shop, and the Dovecote Café. Once the trail is complete, prizes can be collected also from the cafe or shop.
We're so excited to be hosting this trail once again. We hope you and your little explores have fun. The Walled Garden is the perfect day out this Summer, and we look forward to seeing you all.