Wanted: Summer Catering! Free pitch at The Walled Garden.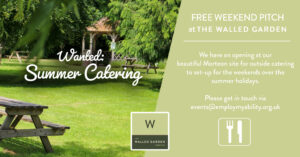 Due to some cancellations, we have an opening at our beautiful Moreton site for outside catering to set-up for the
weekends over the summer holidays. We're calling all operators of pizza vans, hog roasts, mobile bbqs, crepes / pancakes and more – we would love hear from you, and have you join us this summer to expand what's on offer here at The Walled Garden for our high footfall of visitors to our free entry site.
This pitch would be available at Weekends and there would be NO CHARGE to you. We promote heavily on social media and our website, and are just keen to give the community more choice when visiting the gardens.
If you'd like to bring your catering business to us this Summer, please get in touch via
We encourage our visitors to spread the word and help us fill the weekends. It would be very much appreciated! Thanks everyone!