New Covid Secure policy in place from Thursday 24th Sept at The Dovecote Café.
In response to the latest Government announcement and restrictions, we will be adjusting service in the café accordingly. We're pleased to say we will be remaining open at our normal hours, but we kindly ask all customers to adhere to the new rules we've had to put in place.
If you have any questions, please don't hesitate to get in touch.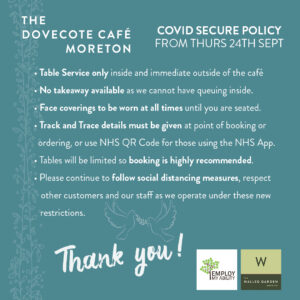 Read our full public health update here: CLICK