Our Walled Garden trail returns this Easter holiday! New and experienced explorers welcome!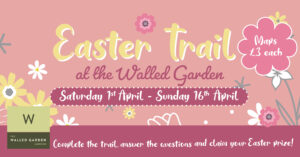 Trail!
On every day April 1st-16th. Grab your map (£3), explore the gardens to discover the facts, complete the quiz, solve the anagram and claim your prize!
Meet the bugs!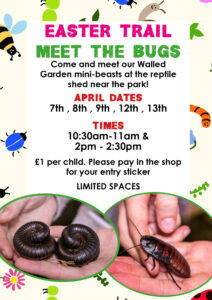 As with February, we will also be offering Bug Showings in our animal shed on select days and times. Limited space – sessions cost £1 and you must purchase your entry sticker from the garden shop. This can be done at the same time as grabbing your map, or separately.
Dates and times for meet the bugs:
April 7th , 8th , 9th , 12th , 13th
10.30am – 11am and 2pm- 2.30pm
Easter Bunny
Our special guest visitor will be in the gardens handing out small sweet bags on random days too.
Please note: One prize per map. Please bring your own pen or pencil if possible. Trail is suitable for ages 3-9 but others are of course welcome!
The walled garden has free parking, play park, Dovecote Café and plant shop and is a brilliant day out for the whole family. Dogs on leads welcome! We look forward to seeing you this coming Easter!