EXTENDED to SUNDAY 11th JUNE!
Our signature Walled Garden trail for children returns this coming May half term here in Moreton, Dorset.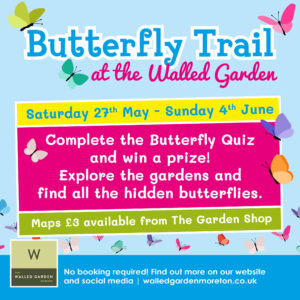 Our Butterfly quiz has been expanded! Study the butterfly facts, follow the trail and answer the 14 quiz questions and claim your prize at the end!
We also have 16 butterflies hidden around the gardens, some of which come with special letters for the secret word. Can you solve this mini riddle?
Your map this year includes a special "Design your own butterfly" on the reverse which you can take home and submit to our competition later to win a piece of cake!
Taking place during half term from Saturday 27th May – Sunday 4th June. As usual, trail maps are just £3 per each (one prize per map), no booking is required, just turn up on the day and head to the garden shop.
Finished the trail? Click here for the answers!
BUG SHOWINGS are also returning!
Get up close with our creepy crawlies! We have our popular Bug Showings on Tuesday 30th May, Wednesday 31st May and Saturday 3rd June with 2 sessions per day; one from 11am – 11:30am and the afternoon session from 2pm – 2:30pm.
Just pop in on the day and pay £1 per person in the Garden Shop. Space is limited so it's first come first served, please arrive early if you can. 🙂
Wide open spaces, play park, animals (including our new goats!), garden shop and café – The Walled Garden is the perfect day out. We also have our DOG SHOW taking place on Monday 29th May (the trail will still be on this day too).