Planning for the Summer holidays? Join us for our Roar-some Dinosaur Trail and get ready for another Jurassic adventure as our signature Dino event returns to The Walled Garden here in Moreton Dorset this Summer! 🦕🦖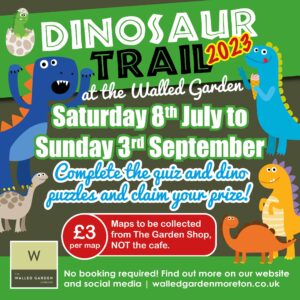 Bring your dino-loving little ones to take part in our garden trail from 8th July to 3rd September! With 20 questions, plus new facts to learn all about dinosaurs, have lots of fun and collect your prize.
Also – Spot The Difference puzzles, and can you find the rare dinosaur egg – also hidden in the gardens.
Plus, don't forget – 9 mischievous mini-dinos (the compies!) are hidden around the gardens each guarding a letter which make up the mystery word, can you track them all down?
Who will be the dino expert? Each activity gives you points to your tally – challenge your friends and family to see who gets the most at the end!
Maps are £3 each and need to be collected from The Garden Shop (not the cafe), no booking required,
Maps contain a colouring competition to take home with you too. Enter and win a prize at the end of Summer!
The Walled Garden is the perfect day out this summer here in Dorset. We're starting the trail early so it will run longer than ever before to make sure you don't miss out. Free parking and dogs on leads welcome! Café, play park, animals and garden shop – there's so many reasons to visit us this year. We can't wait to see you!
PS – Stay tuned for some extra fun and events coming this Summer.
For when you're doing the trail –