The day has finally arrived! Our gates have reopened to welcome you into The Walled Garden once again.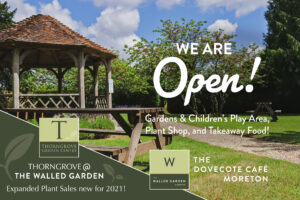 Takeaway is available from The Dovecote Café
Plus! New for 2021 – Thorngrove @ The Walled Garden!
Our expanded plant sales area is officially open. With new stock supplied by our sister site
Thorngrove Garden Centre we now have a more diverse range of plants and garden items than ever before. Come and see!
We'll be continuing to bring stock in over the coming months as we move towards the Summer
We kindly ask all visitors to continue to respect social distancing, and follow all signage on site. You can read our full public health update on our website:
https://bit.ly/3sHkpw1