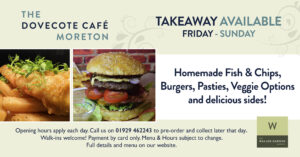 Updated 8th June 2020:
We are pleased to confirm that the new and improved Dovecote Café has reopened for Takeaway meals!
Choose from homemade fish & chips, burgers, pasties, veggie options and a range of delicious sides!
Full menu available by clicking here.
To place an order you can call us on 01929 462243. Payment on collection by CARD ONLY.
Opening hours as follows:
Friday – 4pm – 8pm (takeaway 4pm – 8pm, orders taken from 1pm)
Saturday 10am – 6pm (takeaway 12pm – 6pm, orders taken from 10am)
Sunday 10am – 5pm (takeaway 12pm – 6pm, orders taken from 10am)
Walk-ins are also welcome, but please bear in mind we may be busy with pre-booked orders and there could be a small delay.
You are also welcome to enjoy your food in the gardens which are open at the weekends too. All rubbish must be taken home with you as there are currently no bins on site for public use.
We're delighted to be able to bring this service to you, and we kindly ask that all customers respect social distancing when collecting their orders, and arrive promptly at the time booked. We may adjust our menu and service hours if necessary. Keep following our social media and website for all updates!