Customer Notice: Ironman Road Closure in Moreton this Sunday!
With the Ironman keeping most roads in Dorset closed this coming Sunday morning, we're going to open the café later than usual at 12pm.
The gardens will be open from 9am as usual. If you're planning to visit us this coming Sunday morning, please be aware that Station Road will be CLOSED from 7am to 10:45am.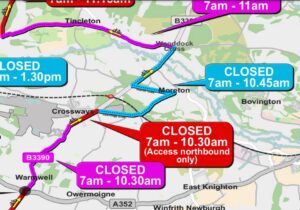 We understand this may cause inconvenience for many, but The Walled Garden and Dovecote Café will still be accessible, you will just need to take an alternate route to reach us. Most incoming routes will need to take the A35 via Puddletown and Bere Regis. Please refer to the full map here:
https://bit.ly/3kddGrF
– all main road open routes are highlighted in Green
Please plan ahead accordingly – we look forward to see you!