We're delighted to be hosting dorchester based Martin Green Interiors for their garden 'showroom' event at the end of this month.
Martin Green Interiors focuses on finding new homes for beautiful, well designed and expertly made furniture and other various household and garden items. Promoting ethically produced furniture, as well as the reuse and recycling of old furniture which can find a new lease of life!
This upcoming garden event is an extension of their ethos, and they'll be adding in items that they've created or repurposed from reclaimed timber especially for the event here in The Walled Garden.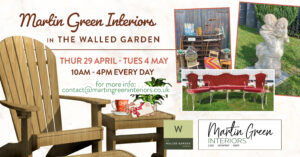 via https://www.martingreeninteriors.co.uk/about-us
"We are passionate about finding new homes for antique, vintage and contemporary pieces that are beautifully designed, masterfully created and enduringly desirable.
​Through experience, knowledge and research we look to share the story, history and social context of individual pieces; from design origins, points of craftsmanship to materials used.
As a business we are dedicated to sustainability and invite you to help us reduce carbon production, waste and pollution by considering an older and cherished item to furnish your home."
find out more: https://www.martingreeninteriors.co.uk/about-us
Working together with local business is always a top priority for us, and we're excited to see the products Martin Green has to offer, so be sure to visit 29th April – 4th May.