Autumn is here and we're already looking ahead to spooky season and October half-term! If you're looking for fun here in Dorset, then please stop by and join our themed events for children!
NEW FOR 2023! – Halloween Bug & Reptile Experience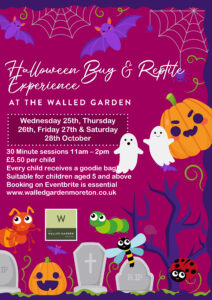 We've taken our Walled Garden Bug Experience and expanded it with a monstrous twist for Halloween!
Do you dare to entire our Halloween-themed reptile shed and take part in a special EXPANDED BUG & REPTILE EXPERIENCE with our mini-beast queen, Chrissy. Get up close and personal with death beetles, fire millipedes, cockroaches, stick insects, tortoises, our bearded dragon and maybe a surprise or two as well!
Learn amazing facts in this educational experience with our animal expert, and handle the creatures if you're feeling brave enough!
That's not all – every child receives a GOODIE BAG and badge to prove their bravery!
Dates – Wednesday 25 , Thursday 26th , Friday 27th and Saturday 28th
Times – 11am-11.30am, 11.30am – 12am and 1.30-2pm.  30min sessions.
£5.50 per child
Spaces are very limited to keep this a dedicated session and ensure you get plenty of time with our animals. 6 children per time slot. One adult in the shed per child at a time to ensure we do not overcrowd the animals, and allow everyone to get up close! (if more than one adult is visiting, you are welcome to take turns if you'd like to step-in with you child – we just want everyone to get a turn!)
BOOKING via Eventbrite ESSENTIAL for this event. Tickets on sale 6pm on 22nd Sept.
Please click here for ticket link: https://www.eventbrite.com/e/723864316657?aff=oddtdtcreator
Autumn / Halloween Trail!
Our traditional Walled Garden Trail returns. Explore the gardens and complete the quiz to claim your prize! Every map includes a colouring competition to take home and be in with a chance to win cake for your next visit!
Maps as always are £3 per child, and will be available from the garden shop (which will be open for half-term)
Be sure to stop by the café for special themed sweet treats too!
We look forward to seeing you all this Autumn here at The Walled Garden.
Free parking. Dog friendly.
TRAIL ANSWERS
Been to the trail and didn't find the answers on site? Click here!