It'll soon be the most wonderful time of year and a winter wonderland will be descending on The Walled Garden Moreton! We have an extra special event this December, not only can you experience our signature garden trail (suitably Christmas themed!), but this year we have a limited tickets event to meet Santa's Reindeer!
Please read full details below!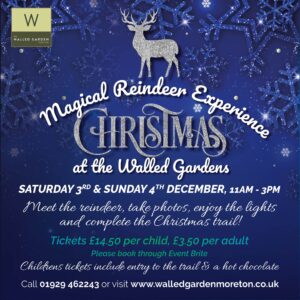 Two special Reindeer guests will be at the Walled Garden for two days only as they drop by for a fleeting visit before heading back to Santa's workshop, ready for their biggest job of the year on Christmas Eve!
Visit our special Reindeer pen in the family area, get up close with them, take photos and capture a memory you'll treasure forever!
Tickets are £14.50 per child and include:
Meeting the reindeer, Walled Garden Christmas Trail (which includes a prize upon completion), and a token for a hot chocolate or cold drink from the Dovecote Café.
Adults accompanying a child can join the reindeer meet for just £3.50 extra.
Under 2s go FREE and do not require a ticket.
Adults who would like to attend without children can do so for £9.50 each including a drinks token for the cafe.
Booking is highly recommended! Tickets available on Eventbrite here. Please choose your time slot when booking:
https://www.eventbrite.co.uk/e/the-walled-garden-magical-reindeer-experience-tickets-429153929957
We're so excited to have the Reindeer visiting, and we hope this is just the beginning of regular bigger seasonal events at The Walled Garden. We really hope you'll join us for the perfect Christmas Day out this December, and please do spread the word!