It's that time again! Our Garden trail will be OPEN this coming half term on Saturday 24th October for ONE WEEK ONLY! – and this time it's a very special Autumn/Pumpkin/Nature theme!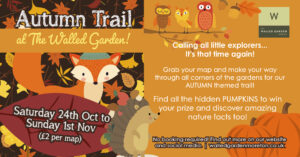 Pumpkins will be hidden around the garden, can you find them all? Grab your map and explore every corner, learning amazing facts, and complete the quiz along the way. Find all the pumpkins and answer the quiz questions to claim your prize!
NO BOOKING REQUIRED.
Maps will be £2 each and can be collected and paid for in the garden shop along with the prizes at the end!
We're delighted to be able to host this event with the open space we have, but we still encourage all visitors to adhere to social distancing measures. 
The trail will run from Saturday 24th October to Sunday 1st November.
We look forward to seeing you!