Dorset Art Weeks 2022 has now concluded, but this page contains all the previous information about the artists, and you can still see many of the sculptures in place at the gardens today. Stay tuned for more event news in the future!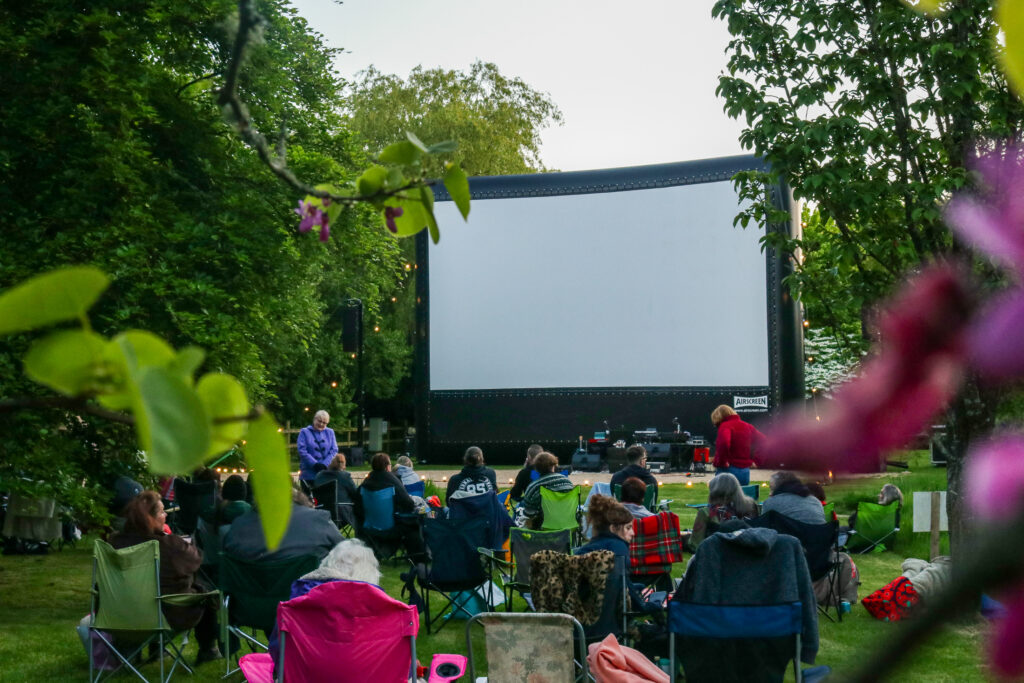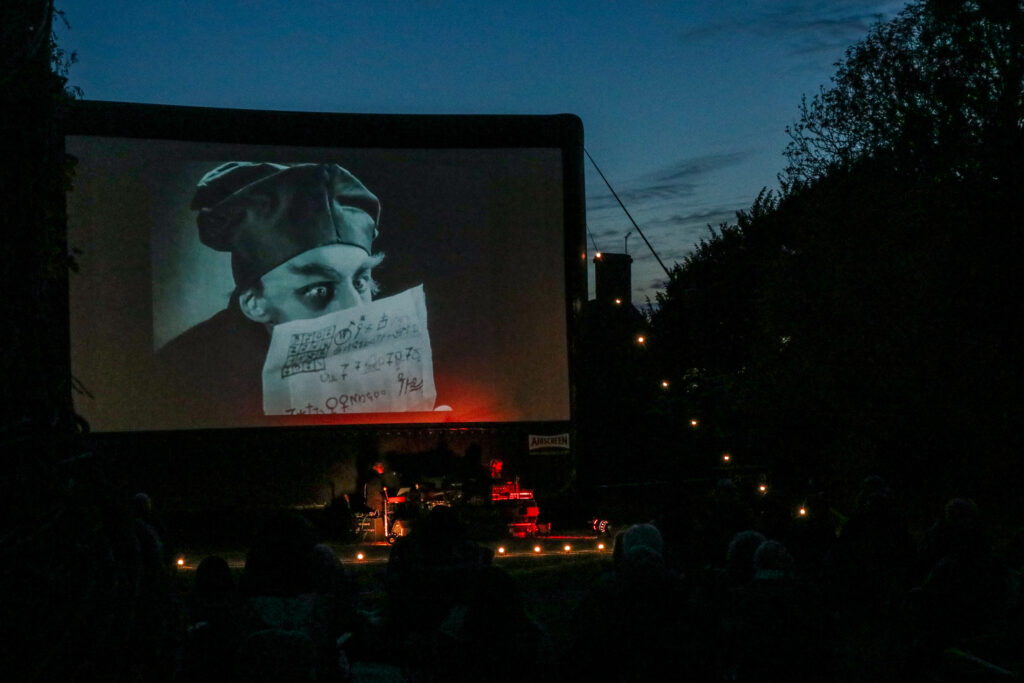 Dorset Art Weeks is officially OPEN and takes place 14th – 29th  May. Visit the gardens today to see some brand new sculptures in place, and scroll down for more info on the artists themselves, plus information on our events taking place!
Along with a diverse range of sculptures, we'll be welcoming two of the artists for two of the weekends as they host a free entry demonstration event of their work.
Sat 14th & Sun 15th – Katie Surridge – Community Digging Tools demo. FREE.
Sat 21st & Sun 22nd – Mark Haddon – Willow Sculpture demo. FREE.
PLUS, on the evening of the 21st May, we're delighted to be hosting a ONE NIGHT ONLY outdoor cinema event, screening an the classic 1922 vampire film Nosferatu with a soundtrack performed LIVE by musicians on site.
We are so immensely excited for Art Weeks and for it to be returning to The Walled Garden once again. On this page you can find all the details about sculptures on site, the artists themselves, and ticket details for our outdoor cinema event.
Tickets for the outdoor cinema are available NOW on Eventbrite: https://www.eventbrite.co.uk/e/outdoor-cinema-nosferatu-with-live-soundtrack-tickets-274778127777
If you have any questions, please don't hesitate to get in touch! events@employmyability.org.uk
Free parking is available on site. Tickets are NON-REFUNDABLE even in the event of bad weather. This is an outdoor event and we cannot guarantee good weather, but we will be making our best arrangements as possible to mitigate any rain should it occur.
You are encouraged to bring picnic blankets or camping chairs. We will have some spares on site but cannot provide for everyone.
A BBQ will be in place on the night, with food and drink available for purchase.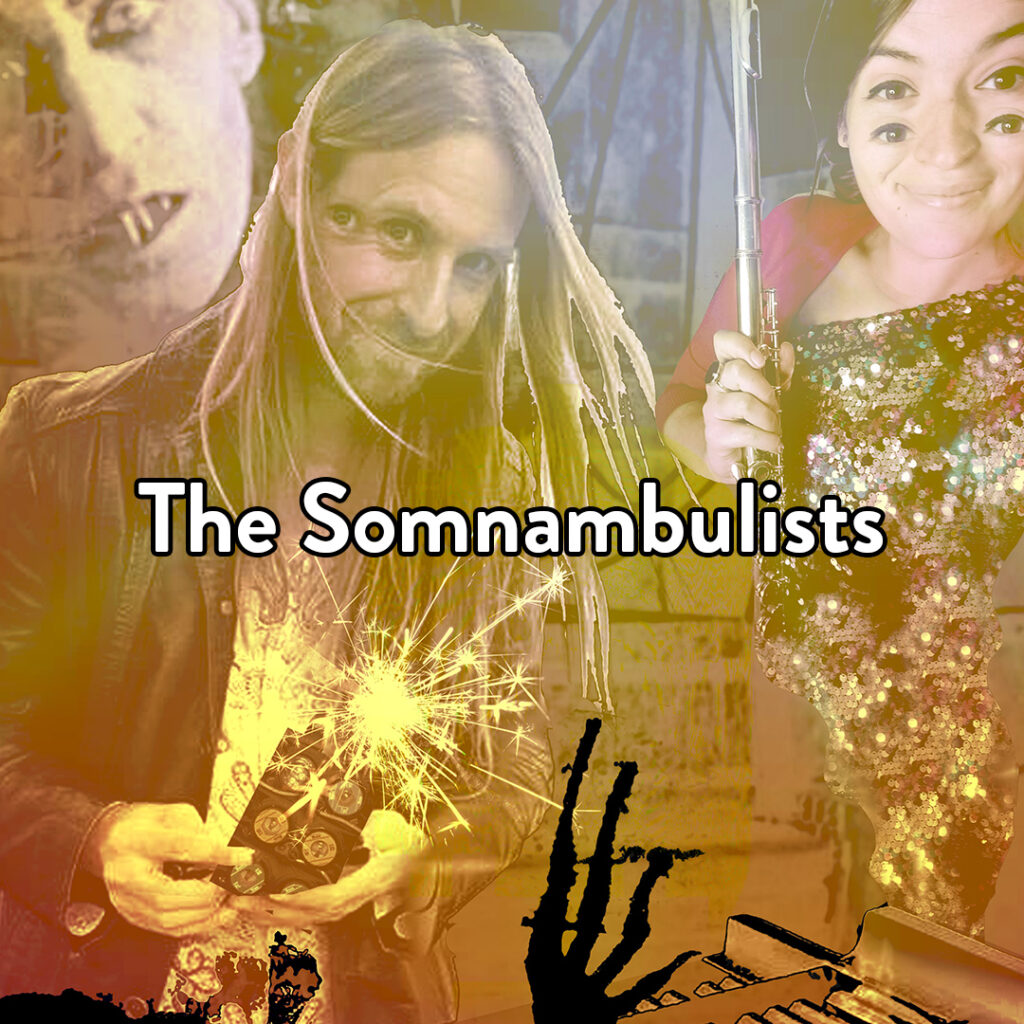 Performing the soundtrack for Nosferatu on Saturday 21st May
Multi-instrumentalists Tom Hughes and Lucy Hackett are 'The Somnambulists'.
As your peepers feast upon the 100 year old horror masterpiece, Nosferatu, The Somnambulists will perform a live and never before heard soundtrack. There'll be no ragtime piano or ascending cinema organ for this screening: Expect broken synths, an actual haunted flute and the creepiest of discordant melodies and a whole trough of melancholy. You've been warned!
This really will be such a unique experience and we can't wait to hear what Tom and Lucy come up with! Tickets are available now on Eventbrite.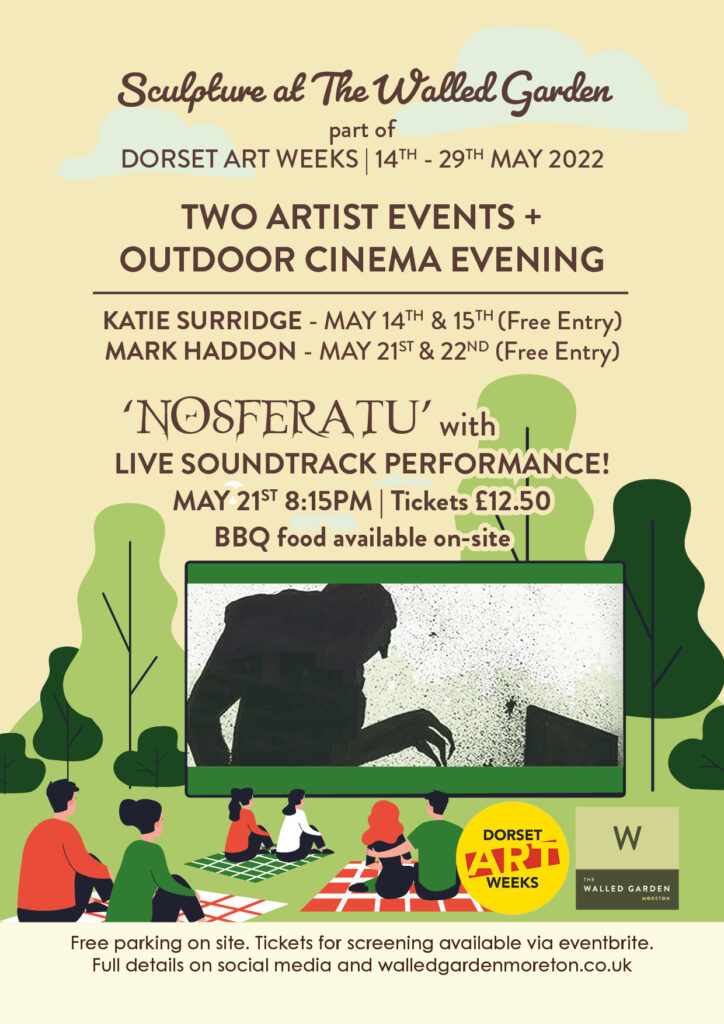 via: https://www.dorsetartweeks.co.uk/
"Dorset Arts Weeks is one of the largest Open Studio Events in the country. It brings artists and visitors together in ways that are often remarkable and profoundly different from entering a public gallery. DAW is fundamentally as much about engagement between people as about people and art. At almost all venues the artists, designers or makers will be on-hand to help you engage with the work, keen to talk to you about the extraordinary range of materials, skills and traditions that inform their work. However you are involved we hope you enjoy it!"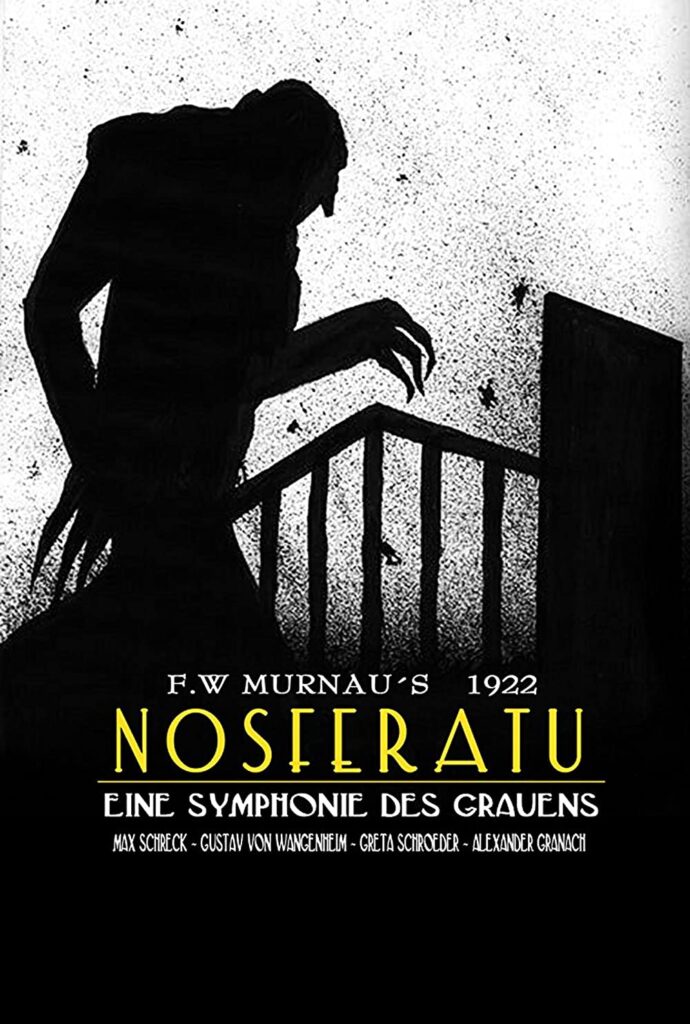 This will be the fourth Sculpture at The Walled Garden exhibition and it's a real treat to be able to show the work of some really talented sculptors in such a beautiful setting.
The exhibition opens on May 14 during Dorset Art Weeks 2021 one of the largest open studio events in the country. It brings artists and visitors together in ways that are often remarkable and profoundly different from entering a public gallery.
All works on display in the garden are for sale, please email dorsetcurator@gmail.com for prices and further information
New Sculptures and Artists for 2022!
Brendon Murless
Blurring the boundaries between traditional techniques and contemporary artwork, Brendon specialises in creating unique sculptures for both indoor and outdoor settings. Brendon takes inspiration from the human form, looking at what makes us human physically and emotionally.
http://www.brendonmurless.com/
​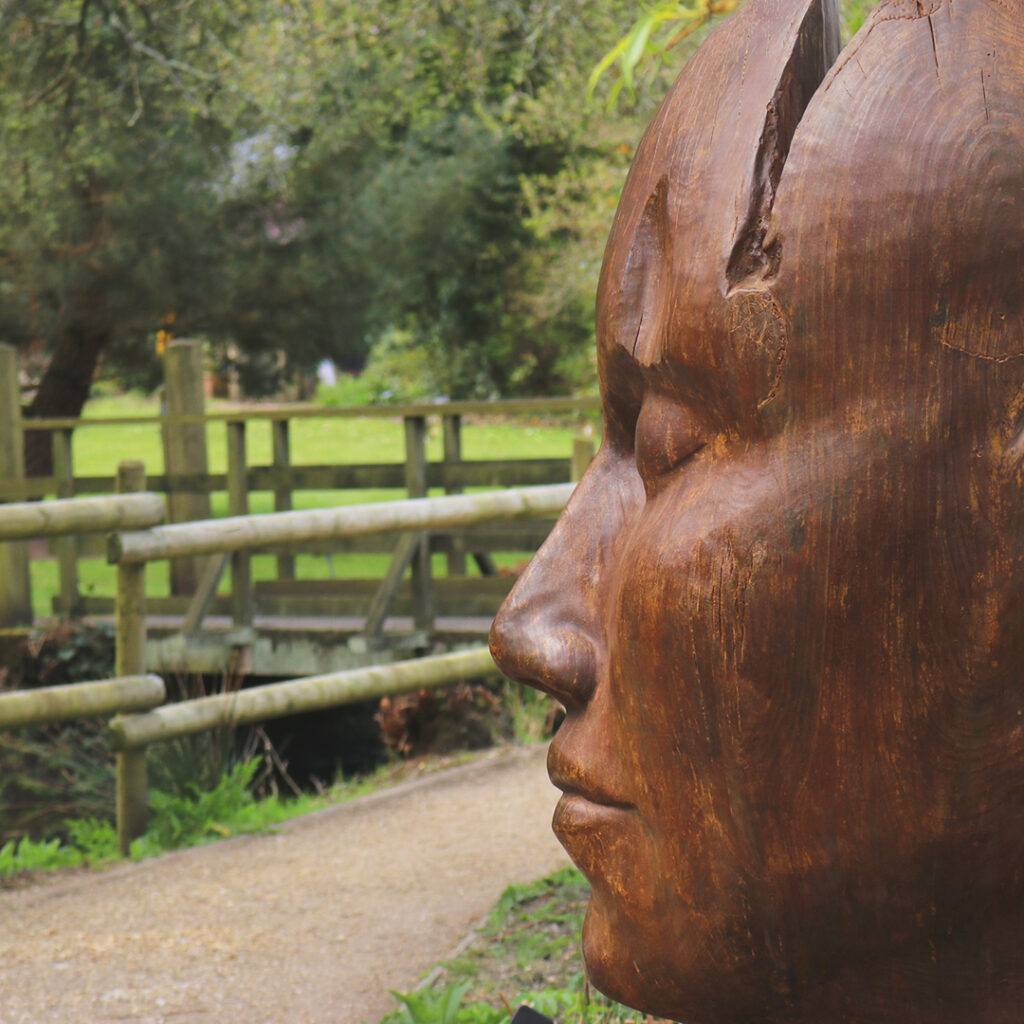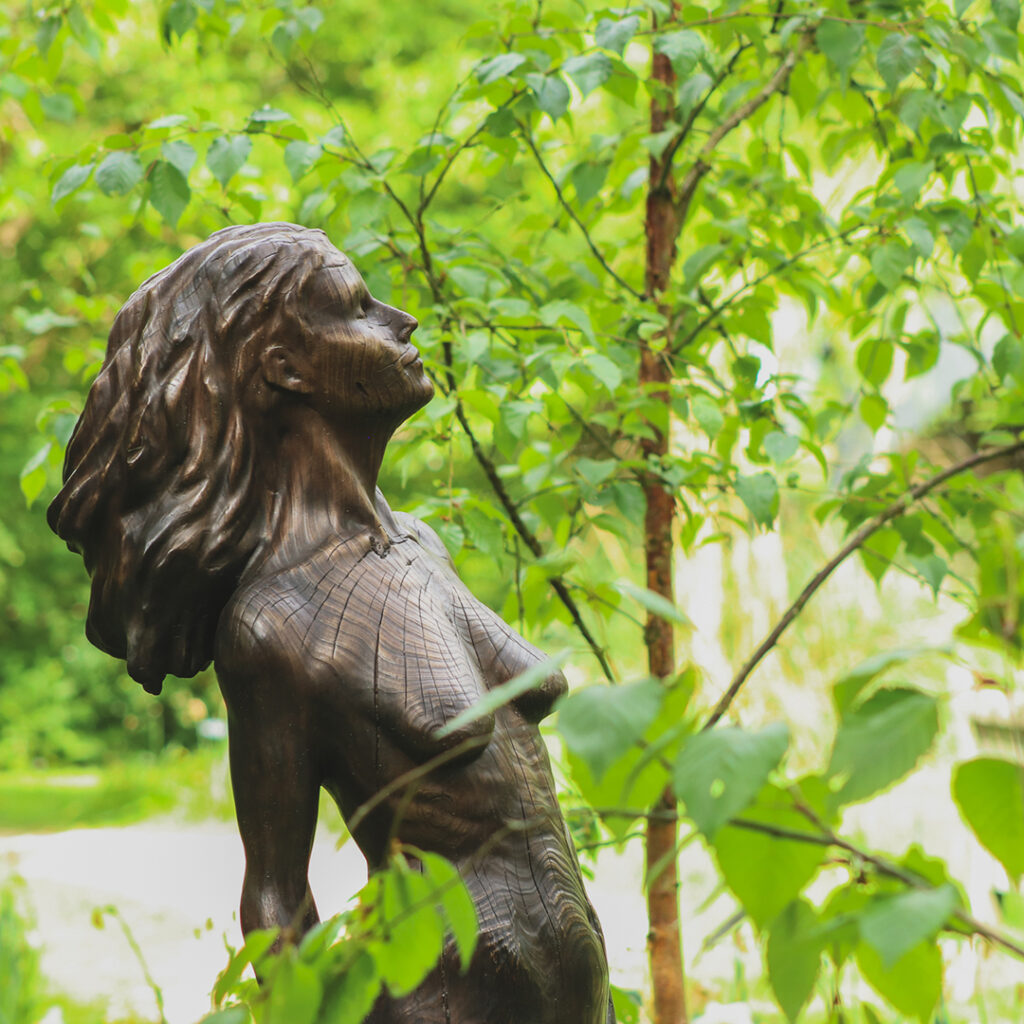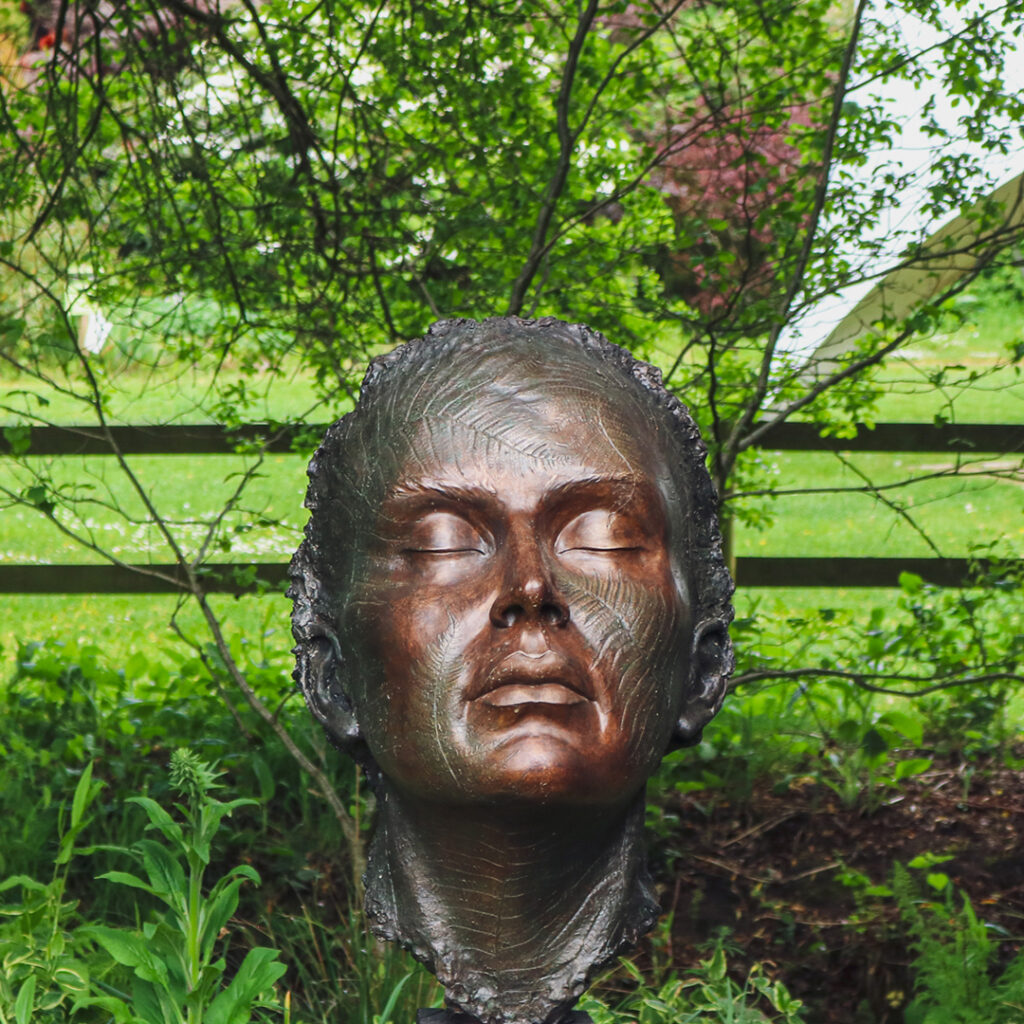 Katie Surridge
Katie is bringing her unique communal digging tools to The Walled Garden as part of Art Weeks on 14th & 15th May. Stop by to meet Katie and get hands on with the tools!
"My current work researches the utilisation of other art forms of the past such as  smelting or flint knapping. I am interested in how various technical and cultural processes affect the aesthetics of objects which I make. Im increasingly keen to be able to control the whole process of my making , from sourcing raw materials to manipulating them in to final art works.
Challenging myself either physically or mentally is becoming an important element to my work. I am interested in the idea of the artist as ethnographer and using fully immersive research as a means to make. I find completely removing myself from the comfort zone I know and understand is inspiring. "
https://www.katiesurridge.com/index.php/portfolio/
​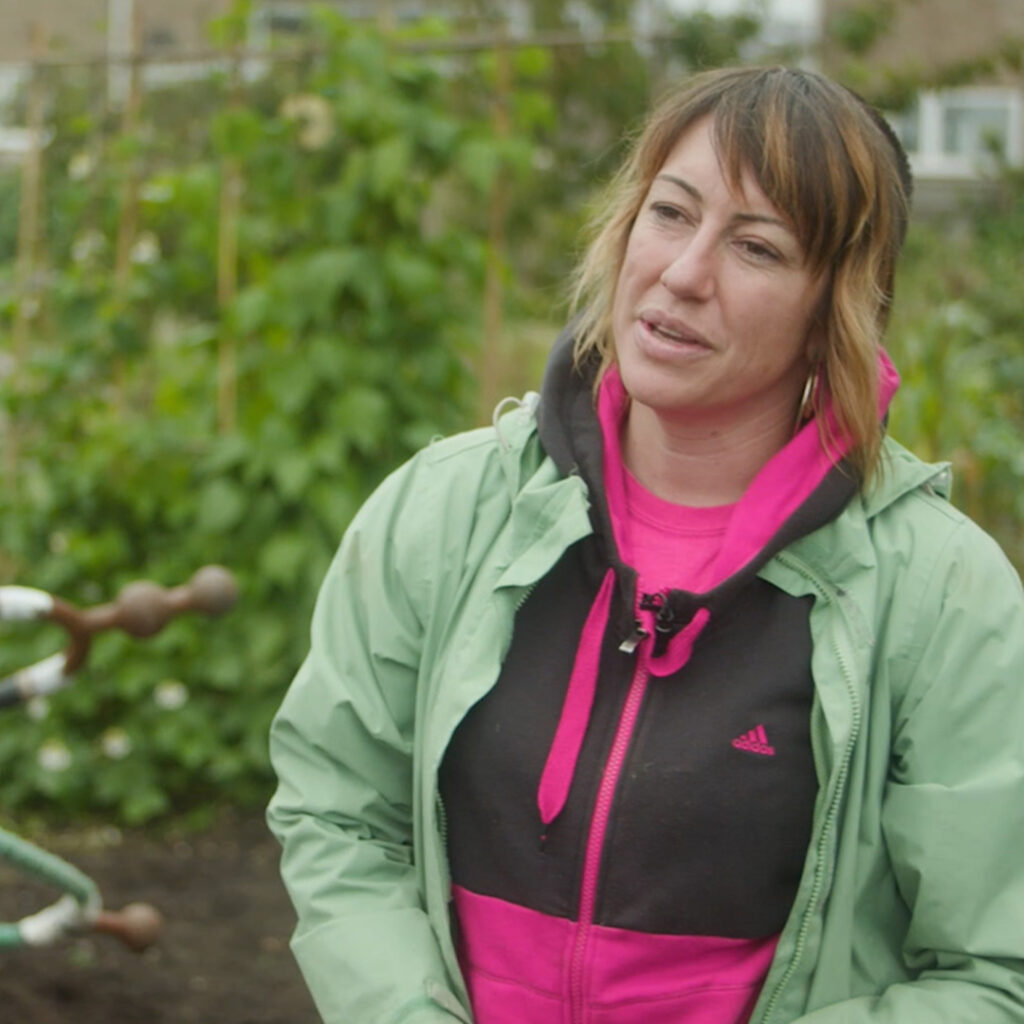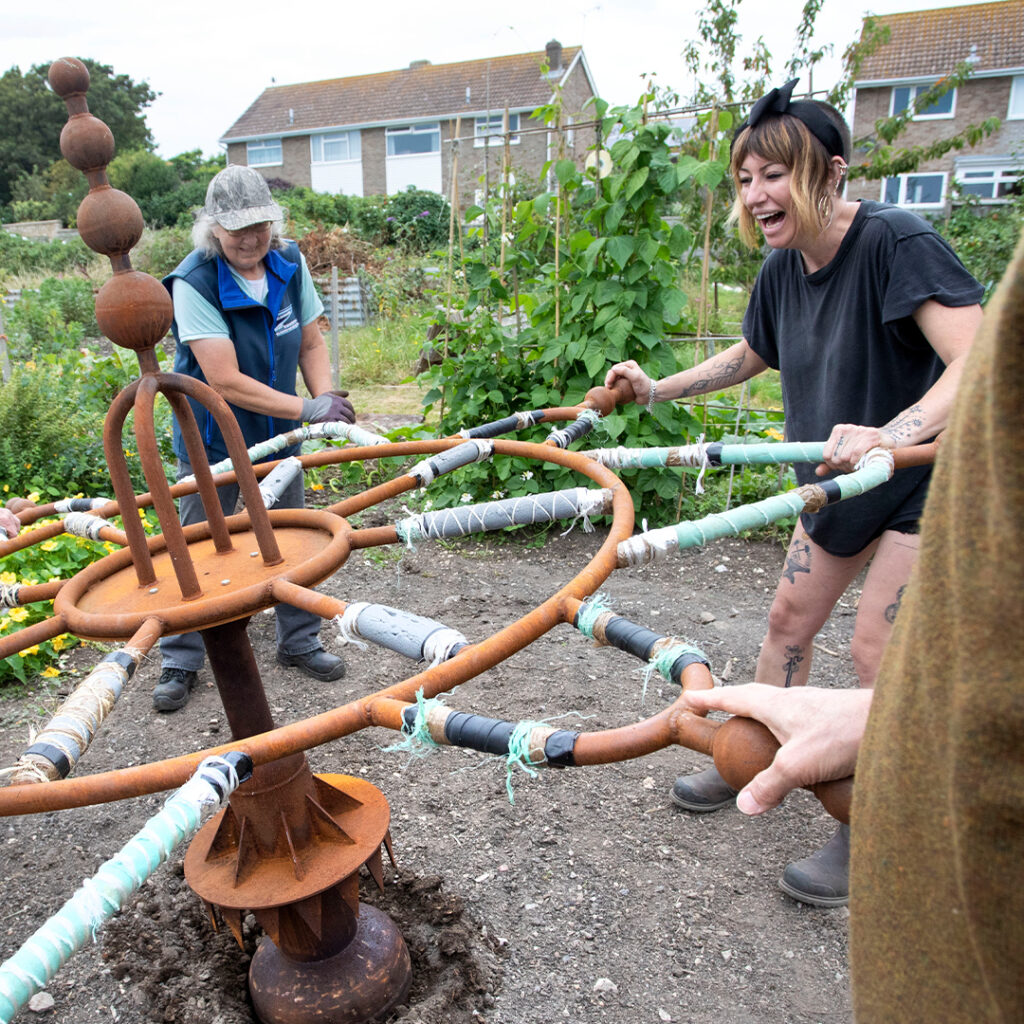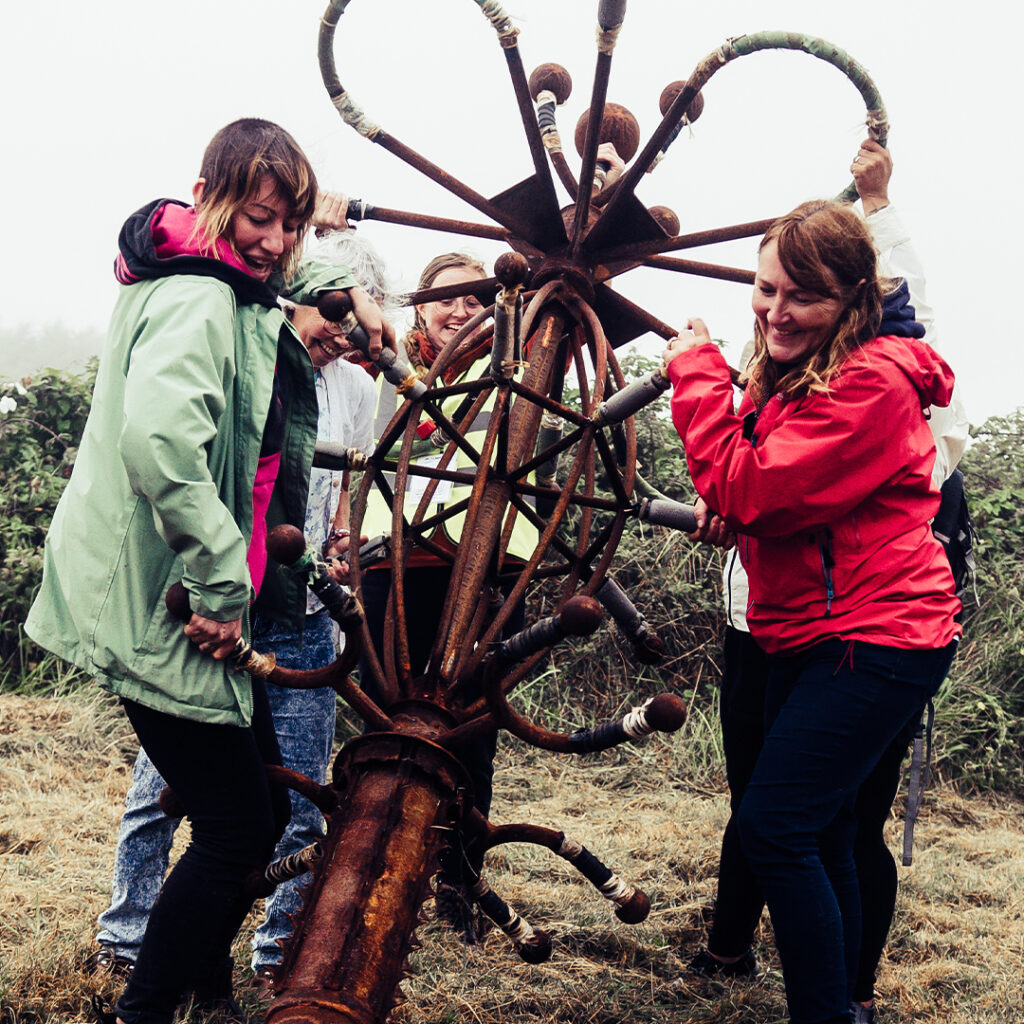 Sophie Fretwell
Sophie is a Scenographer and Community Artist, based in Dorset.
She graduated Arts University Bournemouth's Costume & Performance Design Degree, with First Class Honours and was presented with the Jean Hunisett Prize for Costume Design at Graduation. She has since completed a Masters in Animation Production, where she directed her own Stop Motion short, If the Shoe Fits, which combined live action and stop motion puppetry.
​She has worked as a Costume Illustrator for Amazon's Good Omens (2019) and BBC America's The Watch (2021).
https://sophiefretwell.wixsite.com/portfolio
​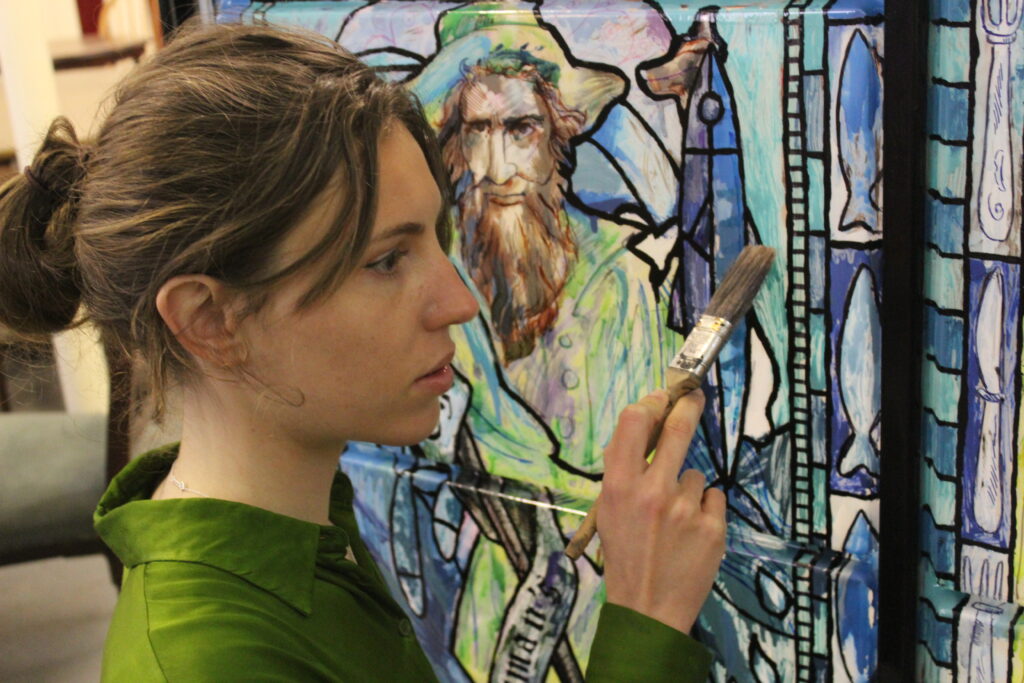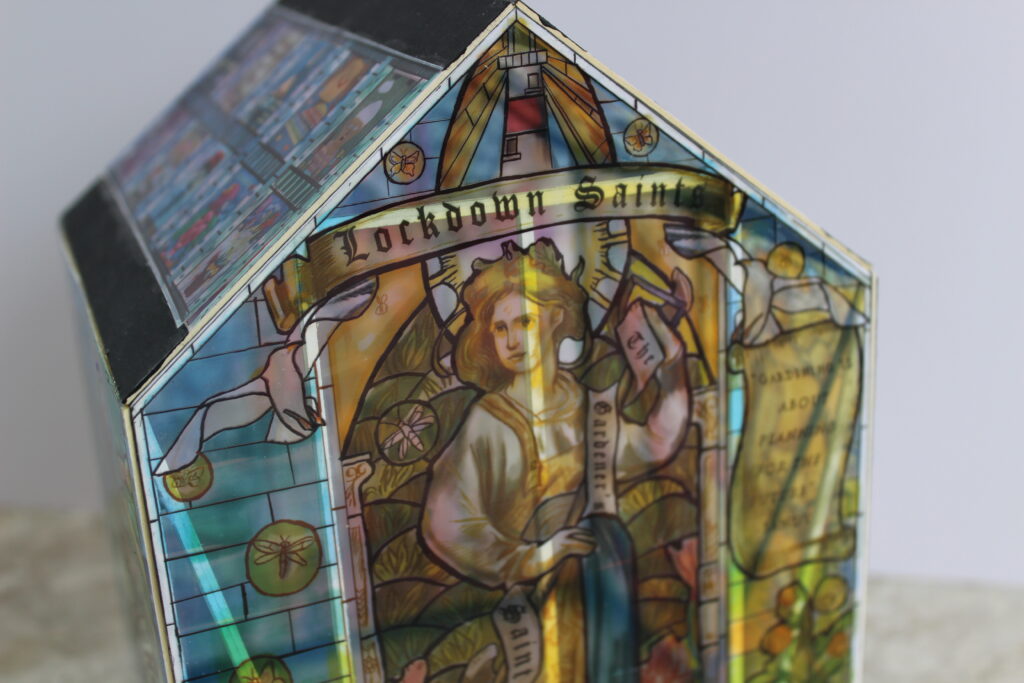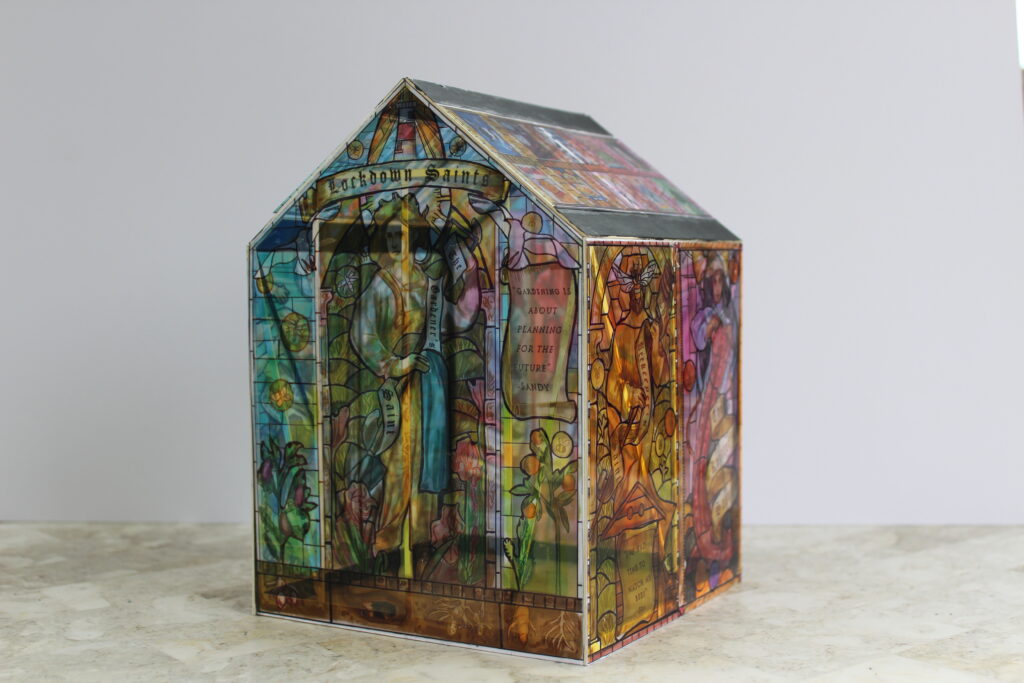 Katherine Miles
Dartmoor based willow artist Katherine Miles loves to create life size (or larger) willow animals and watch the individual characters come alive as she weaves.
One of her most popular animals she is asked to weave is the willow stag which gives a majestic feel to any garden. The willow horse has been created using the dimensions of a very pretty horse called Lily who lives near her home in Moretonhampstead. She is often asked to weave clients favourite horses and she loves the challenge this brings.
She particularly likes to create groups of animals where you can feel the connection between them. Her work is displayed in stately homes, private gardens and as interior design pieces.
Katherine weaves animals and other sculptural pieces mainly to commission.
She has also created her own lighting range inspired by her long term fascination with bird and animal nests.
She is part of the Dartmoor Artisan Trail which links Dartmoors finest artist and craftspeople (http://www.dartmoor-artisan-trail.co.uk/)
And she is also an Associate member of the Devon Guild of Craftsmen.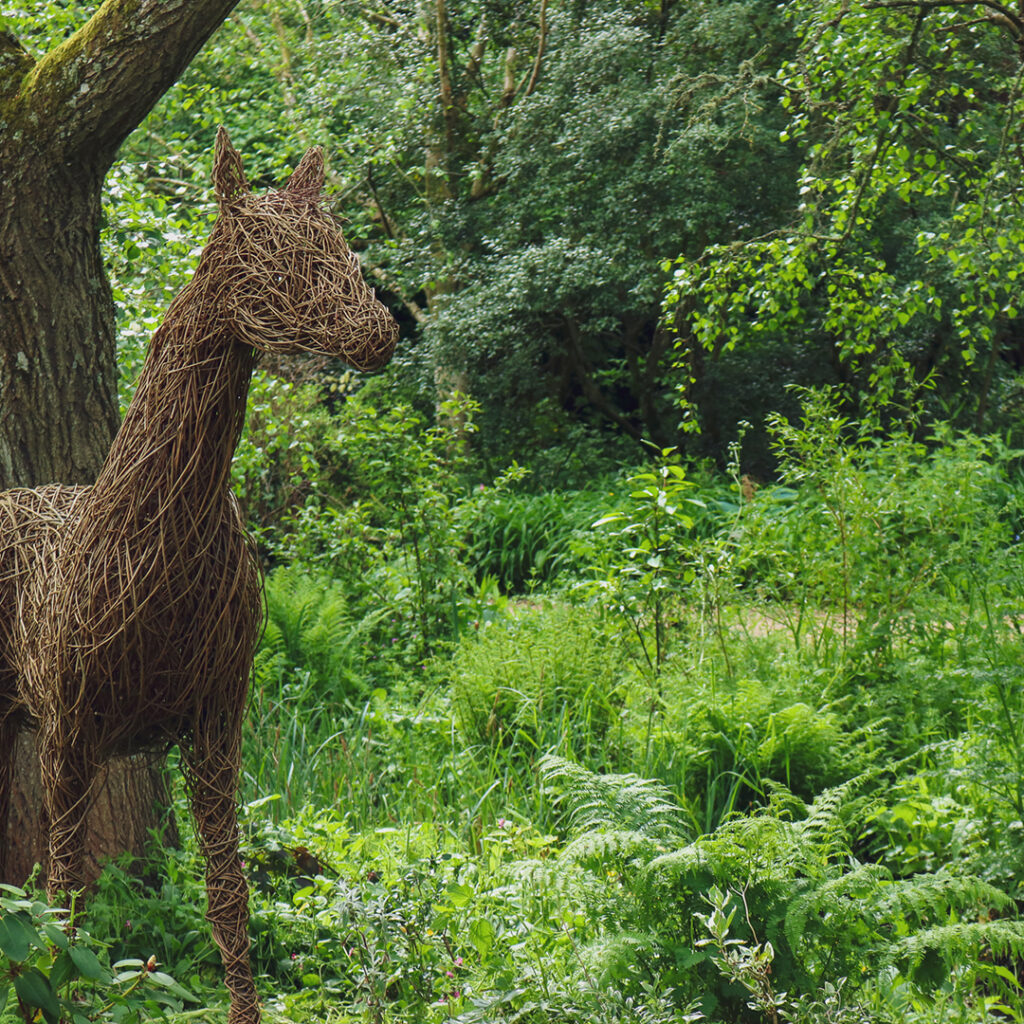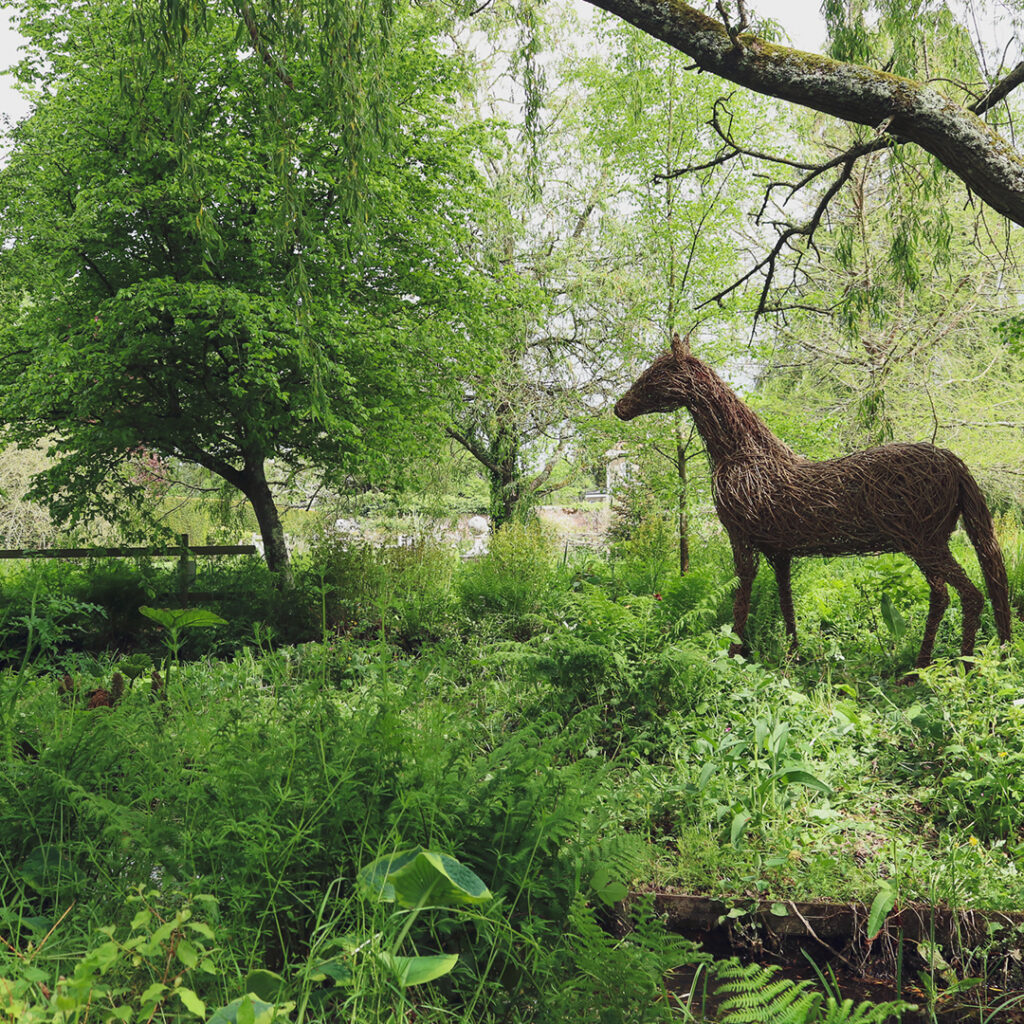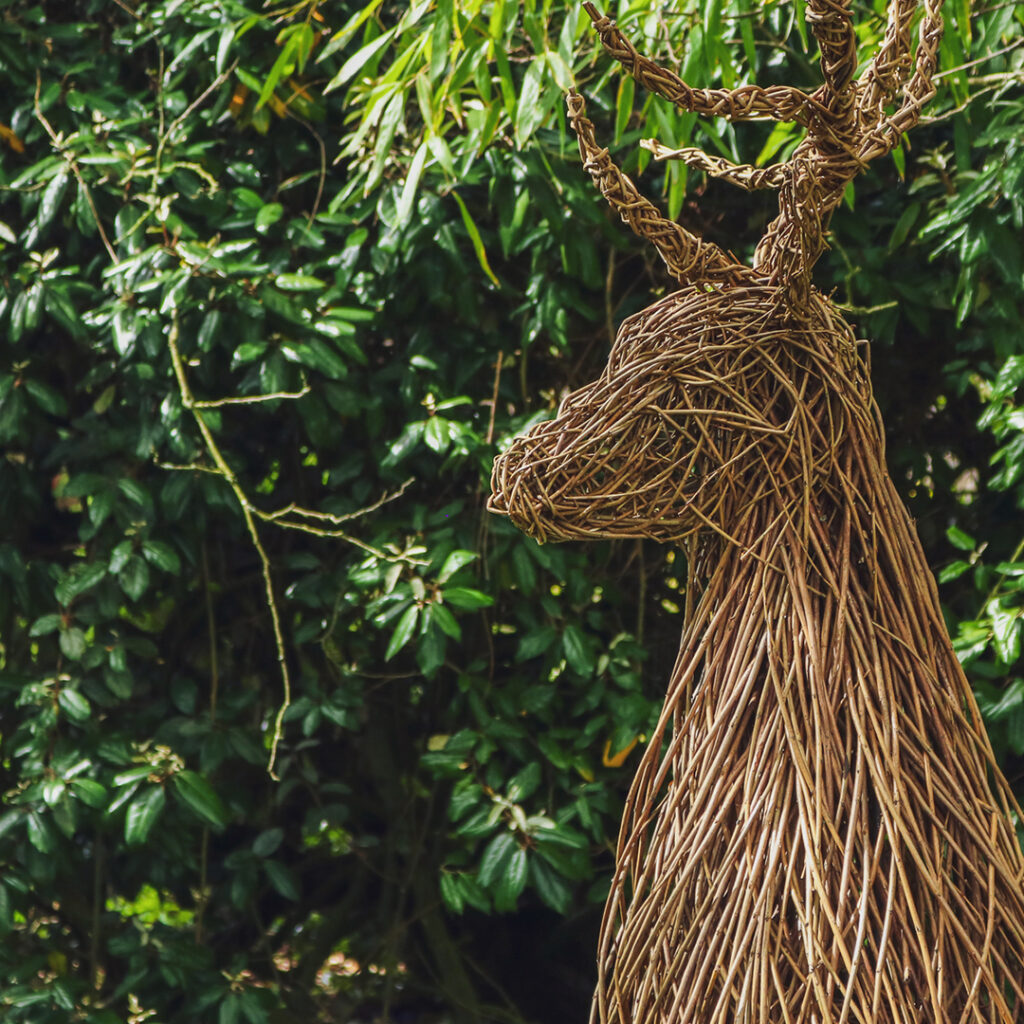 Mark Haddon
Two Circles Design is Mark Antony Haden Ford  and Rebecca Ford, and Mark will be joining us for a special event during Art Weeks!
Two Circles Design works in the medium of found and grown natural materials.  Residing within the South Downs National Park, Sussex, he makes monumental woven environments for both public and private sectors.
With a strong interest in the archaeology, geography and mystery of the natural world, drawing on ancient traditions and techniques of willow craft and woodland management. As an international environmental artist, TCD's surreal installations and ambiguous sculptures encompass a wide range of traditional skills and practices.